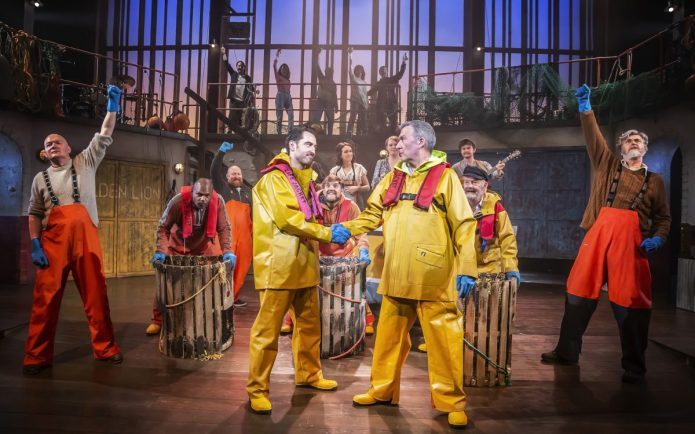 A reviewer I am privileged to see a wide range of theatre from the spectacular and glamorous to the small and meaningful – but hardly ever do I come out feeling I have witnessed something so joyous as this production of Fisherman's Friends The Musical at Malvern last night.
From the moment the transparent curtain goes up on a fishing boat in stormy waters manned by bearded men in day-glow orange weather suits, you can taste the salt. The singing is infectious and so is the energy – I've rarely seen a company – and this is a fairly large one – so together and so obviously enjoying what they are doing.
Yes, I had seen and enjoyed the film (based on the endearing story of the Cornish Fisherman's Choir) some time ago, but for me it doesn't compare to the magical retelling in this stage version.
The songs are mostly sea shanties and are jubilant rather than showstoppers – it's all about the delivery and my word, does this production deliver!
The direction from James Grieve takes us through every emotion in the gambit and never once lulls.
---
Of course it needs a good book to link the songs, whilst establishing characters and telling the tale. Amanda Whittington has done a grand job – there's love, wit, pathos, belly laughs and just the right sprinkle of heartbreak to bring a tear of sadness to mingle with those of joy.
Matt Cole's choreography is bang on – from banging down the sea boots, to banging on beer crates and sea chests and stomping to the banging of the drum. So hard do they bang at times the auditorium vibrates.
Lucy Osborne has designed a set that moves seamlessly from bar to beach, from land to sea and from the white sands of Port Issac in Cornwall to the colorful club land of London. There are ladders to link the levels and spaces for set pieces to be stored. Indeed seeing the transitions particularly through a smoke haze adds another dimension to the enjoyment.
Johanna Town lights it all up with everything from sunshine to torchlight, her stormy sea effects are most imaginative. Sound balance and effects from Dan Samson are audio perfection.
A special shout out to an unsung hero, that's casting director Jim Arnold who has given us a perfect team.
The family at the centre of the story are Grandparents and old salts, Jago and Maggie, engagingly played by Robert Duncan and Janet Mooney.
James Gaddas is flawless as Jago and Maggies gravel-voiced son – that's Jim with the charming smile and captivating scowl.
Parisa Shahmir shines as Jim's wild eyed and gentle hearted daughter Alywyn – the perfect love interest.
Jason Langley is narcissistic washed up record producer Danny who finds solace, love and rekindled purpose amongst the singing seamen whose lives he wants to change from fishing boats to Ferraris. Langley is spot on, believable, cringe worthy and perfect in his redemption.
Fishermen's Friend's celebrates community, tradition and values. It's a love story on many levels, an endearing tale and a unique musical.
The whole cast was a magical mix of musicians and actors giving their all – and we lapped it up.
At the walkdown the audience was on their feet celebrating along with the cast; strangers chatted on the way out and the air buzzed with delight.
Fisherman's Friends runs at Malvern Theatres until Saturday, March 25. Click here for times, tickets and more information.
*****
Review by Euan Rose
Euan Rose reviews