Ean Rose
Euan Rose is an internationally renowned writer. His stage works have been performed at many leading theatres in the Western world and he is also in demand to write biographies for private clients. Euan is available to commission for writing new stage and screen works, adaptations and personal biographies. His existing stage musicals and plays are available for performance under license. Euan Rose was born in West Heath, Birmingham. His passion for writing began at school where he used to regale the 'cold dinner table' each day with an episode of a rather risque soap serial based on the pupils and staff. This very nearly led to his expulsion! A child of the sixties, he played drums in various rock bands before embarking on a career in publishing. After learning his trade with the Daily Mirror Group he branched out on his own. Along with a like-minded partner he grew a very successful business-to-business media communications company, 'Angel Business Communications'. This incorporated a technical publishing house 'Angel Publishing', an exhibition company Angel Exhibitions and a film company 'Cherrystone studios'. During the eighties and nineties he also wrote and directed over 250 corporate and training films. He returned to screenplay with a script for a well received short film 'The Pact'. He now lives in Bromsgrove where he works as a full time writer and director. His stage musical writing credits include the highly acclaimed 'Wallop Mrs. Cox', 'Ridin' the Number Eight', 'Charlotte Badger' and his new 60's musical '3 Summers'.. His stage plays include 3.1.6., Sex Lies and Retribution and an adaptation of Charles Kingsley's 'The Water Babies'. Euan also ghost writes biographies. On stage he has directed most things from Shakespeare to Sondheim over a long love affair with live theatre. When developing a new stage play or musical he always forms a small company for an initial workshop production before it moves onto professional release.
Theatre Shows – Plays
---
Wallop Mrs Cox
For full Screen viewing press the bottom right Square-Press Esc to Return
Synopsis:
Liverpool has 'Blood Brothers', London 'me and My Gal' and now Birmingham's got 'Wallop Mrs Cox! screamed a flurry of stunning reviews when the show first burst onto the theatre scene. With songs like 'Hello Bull Ring', The Back of Rackhams, Twenty four Hours a Day and the show's anthem ' Birmingham', combined with deliciously sarcastic dialogue delivered in dialect synonymous with this great City, Wallop had audiences laughing, crying and on their feet cheering with pride. Set in the Bull Ring, Brummagem history is relived through the eyes of Emily Cox, mother of thirteen and matriarch of the community. Five actresses play her as she ages from a young girl to an old lady, living through change, turbulence and two world wars.
Narrators have included Prof. Carl Chin And Malcolm Boyden of Radio WM And Ed James of Heart FM. Shake, rattle And roll back the years' **** THE TIMES. Best show nationwide! THE OBSERVER. A triumph for the pride of Brum!' EVENING MAIL. Terrific bash to thrill the whole generation' BIRMINGHAM POST.
First Production:   Crescent Theatre Birmingham in 2000
Book by Euan Rose, music And lyrics by Laurie Hornsby
---
Ridin' The No 8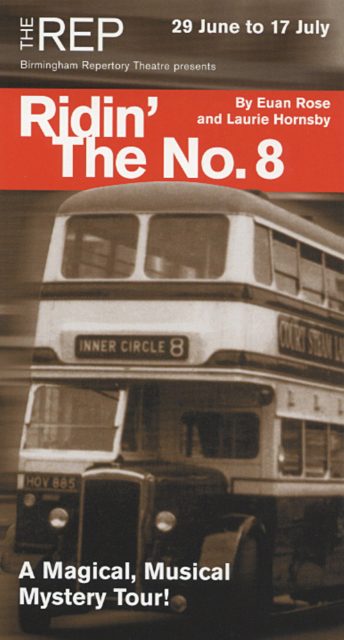 Synopsis:
A magical mystery tour around Birmingham on the famous Number 8 bus on a route that has no end! Birmingham's famous son international artist Edward Bates returns to his home town from where he lives in New York and takes his family and friends for a ride on a Doctor Who type version of the bus which can go back and forth in time in a search to find his roots.
First Production:  Birmingham Rep, Birmingham, UK,  29 Jun 2004
Book by Euan Rose, music And lyrics by Laurie Hornsby.
---
Charlotte Badger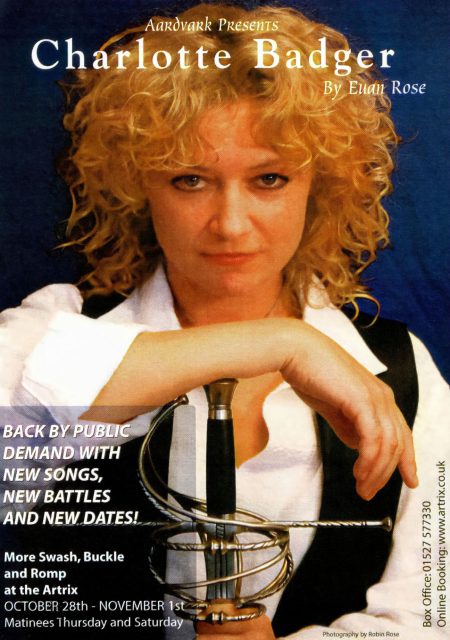 Synopsis:
This original play with songs and music chronicles the extraordinary true life story of Bromsgrove lass Charlotte Badger, who, when convicted at Worcester assizes for a minor offence in 1796 was transported on the first female penal ship to Australia. The sequence of events which follows tells how Charlotte became the most feared female pirate in history whilst bringing up a daughter! 'A voyage that will leave you shouting for more' EVENING MAIL, 'A wonderful tale – well told – of A brave woman fighting Against the odds. Great songs And gritty Action' THE STANDARD.
First Production:   Artrix Theatre Bromsgrove in 2007 by Ardvark
Book And lyrics by Euan Rose; original music by Charles Townsend.
---
3-1-6  Sex Lies and Retribution
Synopsis:
In this intelligent, sexy thriller nothing is straightforward. A cheating husband, desperate housewife and a mistress on the verge! Three very attractive people with a lot on their minds, none of it particularly good! A web of deceit woven through devilish twists and rich, funny, coruscating dialogue!
First Production:  Custard Factory, Birmingham in 2006 by Ardvark
The Full Video of 3-1-6 Below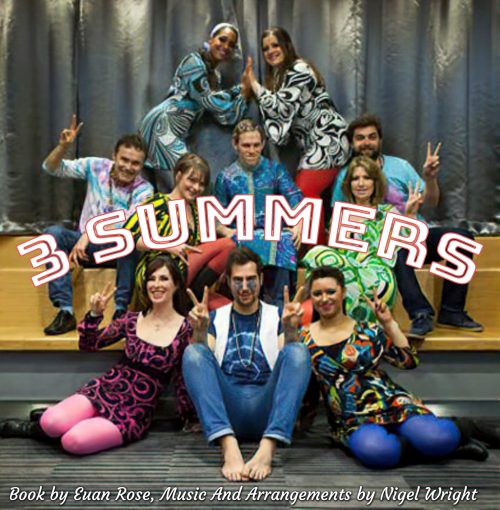 Synopsis:
3 Summers' is a musical about the flower power years. The three summers in question are, 'The Summer of Dreams, 'The Summer of Love' and 'The Summer of Reflection' when the survivors look back on a decade that changed the world. . .The action takes place mainly in the house of a reclusive faded singer, Freddie Savage, an original 50's crooner who was a heart throb and then disappeared to obscurity overnight after 'that incident'. His house is a bedsit haven for ambitious young girls of the 60's who want to be part of the revolution. They are all wannabe's – pop singer, dancer, chef, model, actress and one who just wants to manage a famous person and doesn't really care if that is an artist with brush and easel or one with a twelve string guitar. They are all dreamers and schemers. Their stories are interwoven, some make it, some don't – they just share the journey!
Book by Euan Rose, Music And Arrangements by Nigel Wright
First Production:  Artrix, Bromsgrove in Apr 2011
---
Goodnight Baby Jean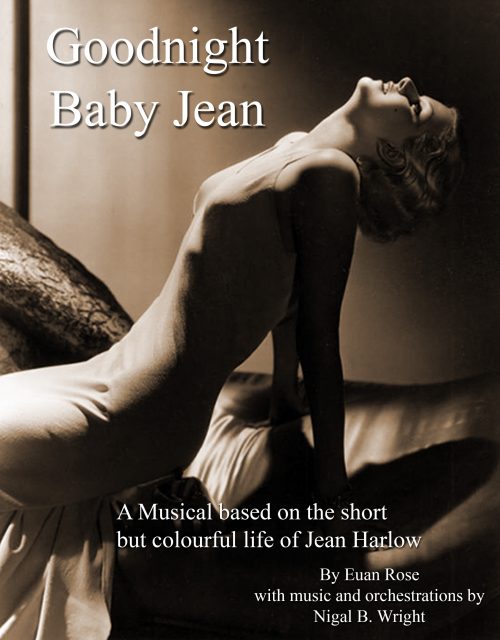 Synopsis:
A musical based on the short but colorful life of the movie star Jean Harlow.
It's June 7th 1937, the day Baby Jean died,' she was just 26 years old. She had however crammed more into one short lifetime than most people could imagine;including three marriages, numerous liaisons and toasted by Howard Hughes as the Queen of Hollywood.
Most people think Marilyn Monroe was the original blonde bombshell but not so – that honour goes to Baby Jean. She even managed the transition from the silent screen to the talkies.
Taking her on her journey into the next world is a happy soul called Death or Santa Muerte as he prefers to go by. Together they sing, dance and relive her life.
First Production:  Crescent Theatre Birmingham?
Book by Euan Rose.
---
Once Upon a Now and Then
A 90 minute one act play with songs and music
Once upon a now and then is a work of fiction but based
upon real people that I have known and observed.
Whilst the text is sometimes as bleak as the lifestyle of
the characters – my intention is always we should laugh
with our street Romeo and Juliet Billy and Beth – not at
them.
How did they get there is the 'Then' as the play looks
back and interlinks that with the 'Now' The once Upon is
a bitter fairy tale parody.
The music is sometimes a chorus, at other times a comment
and now and then a plea for help.
Book and Lyrics by Euan Rose
Cast
The Busker
Billy
Beth
Multi role-playing
ensemble including
Charles
Trevor
Waiter
Judge
Nurse Gibbons
Gladys
Doris
Prison Officer
Street People
Visitors
---
Coming in 2023 a brand new musical based on the story of  Lord Herbert Austin and how he came to start the Austin Motor Company at Longbridge back in 1900. It's a gripping story covering  the invention of the motor car, his battle to to stay in business when besieged by powerful enemies and his tremendous  efforts in the Great War.
Herbert made motoring something for ordinary people with his Austin 10 and made the world's first 70 mph with the Austin Chummy.
As well as a historical tale, it's also a love story. 
A show about Pride, Prejudice, Power and Passion which of course has to contain some huge anthems and tender ballads.
Book and Lyrics by Euan Rose