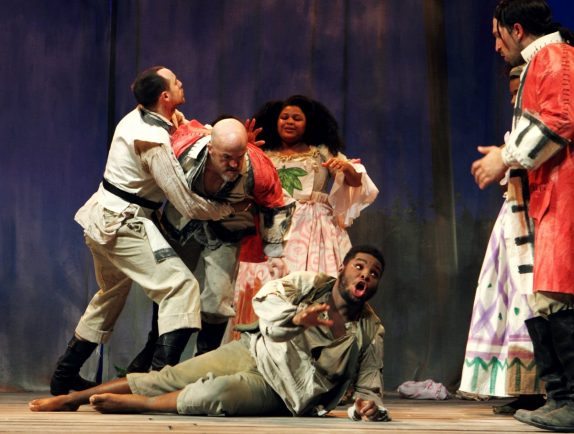 'RAMPS on the Moon' are an annual touring company made up by a consortium of six major theatres including the Birmingham Rep.
Each theatre takes a turn to produce a show with an integrated cast of D/deaf, disabled and non-disabled actors and performers alongside a top drawer creative team. This year it is the turn Nottingham Playhouse and their associate director Fiona Buffini.
Part of the brief is to explore new ways of storytelling to audiences across the broadest spectrum.
When the show opens we are offered up audio description screens either side of the stage plus three of the cast signing to the audience.
There is also another large audio description on a ships sail in the centre of the stage which mercifully is only used for opening as it is an overkill leaving us literally, not knowing where to look when we should be concentrating on the action.
There the criticism ends as this brilliant company bring to live Timberlake Wertenbaker's rather dark tale based on the real life records of officers, marines and convicts in Australia's first penal colony.
There is much wailing, whipping and hanging and emphasis on the class gulf between a society where officers and marines are the ruling class who can do no wrong and the convicts, whose only crime, was to be born into poverty can do no right. Their sole purpose for existing being to cater for the sadistic pleasures of the elite whilst tilling the seemingly unfertile soil of Australia.
The Governor-in Chief, an intelligently observed portrayal by Kieron Jecchinis, encourages the staging of a play by the convicts, namely 'The Recruiting Officer' by George Farquhar.
It is his hope this will break down some of the barriers in the new world order. Cptn Jemmy Cambell, beautifully played by Jarrad Ellis-Thomas, forms a company against all odds' his transportation 'Dirty Dozen.'
Theatre as it always does, becomes the leveller; prejudice and class are left at the rehearsal room door and the golden rules of loyalty and mutual encouragement abound – 'cast before class'. The play ends in stark contrast to where it begins where it begins – curtain up on hope and optimism at the convicts' first night to the show's curtain up on hopelessness and despair.
This is a very strong company with no weak links; a special shout out to Ghemisola Ikumelo who is so moving as convict Lis Morden; Alex Nowak doubling as hilarious pickpocket convict Robert Sideway and bigoted Reverend Johnson; Saphire Joy who is beautiful both in appearance and character as comvict Mary Brenham; Fergus Rattigan as the hilariously energetic 'Ketch' (he is also the company's fight captain); Milton Lopes as the ever watching Aboriginal Australian and man of the show Garry Robson who moves us to tears as midshipman Harry Brewer.
Don't go and see this because you want to support a show where the majority of the cast are disabled in some way. Do go because this is an exciting company offering quality theatre well worthy of the standing ovation it received.
Review by Euan Rose.