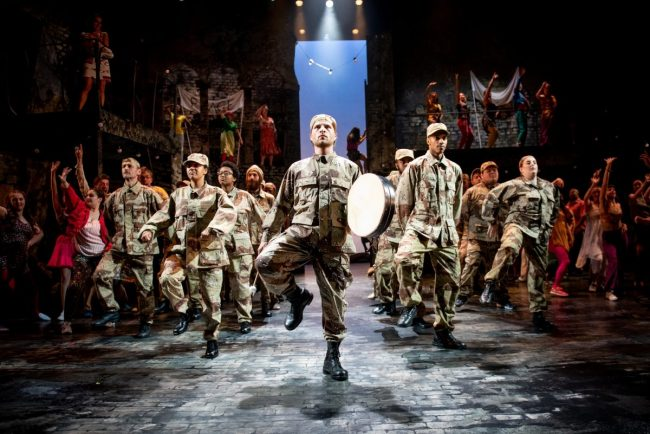 THE TRAGEDY 'Woyzeck' was written by the revolutionary dramatist Georg Buchner; he died of typhus in 1837 when he was just 24 years old, never saw any of his work performed on a stage.
Neither was he acknowledged as a writer until many years after his death.
'Woyzeck' is a favourite piece for lovers and exponents of avant-garde theatre to write countless adaptations and produce in every form of artistry from the realistic through the macabre to grand opera.
The REP has followed in that tradition with their huge production involving a cast of over 100 of what it terms 'community players' accompanied by just two professional actors Thomas Pickles as Woyzeck and Jalleh Alizadeh as his common law wife Marie.
The plot concerns a soldier/military barber returning home at the end of a war; trying to rebuild his life in peacetime.
He suffers from post-traumatic stress and eventually driven to madness by a combination of near starvation via a diet of canned peas fed to him by mad scientists, the sexual demands of his military commander and the infidelity of Marie who he stabs to death.
The undoubted stars of the night are the ensemble who dance, sing and perform like a well-drilled army.
Director Roxana Silbert and Choreographer Rosie Kay have produced some exciting and memorable set pieces.
When this army are on stage en-masse the production leaps across the curtain line and grabs you, when they are not it tends to retreat behind it.
The sometimes over complexity of Leo Butler's script and the inaudibility of the leads made things difficult to follow resulting in too much audience time being spent reading the dialogue on the screens provided for the hearing impaired rather than watching the action.
The production would undoubtedly benefit from a text revision and cranking up the volume.
Despite its flaws this is a unique and brave production. Special mention goes to Richella McPherson who is simply magical as 'The Robot'.
Review by Euan Rose