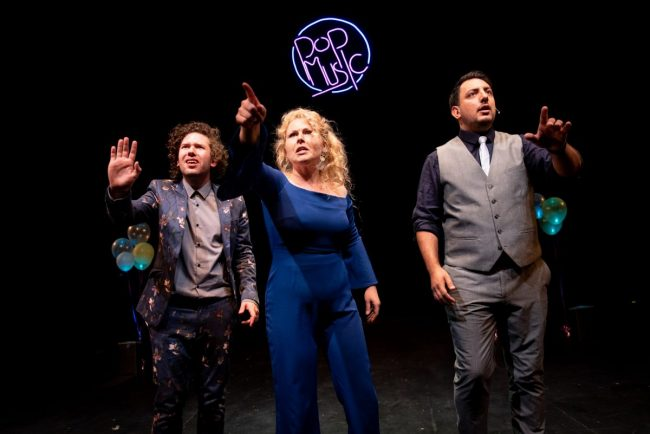 'PAINES Plough' is renowned for both offering up new work and giving new takes on presentation.
In Anna Jordan's 'Pop Music' at the Birmingham Rep they offer both.
Directed by James Grieve, it's concept is simple – two drink-jaded people meet on the dance floor at the wedding of mutual friends and as they dance they open up to each other about their lives, as song lyrics and rhythms set off memories of the 80s and 90s.
'G' is played by Rakesh Boury and 'Kayla' by Katherine Kotz – both of whom are excellent in their respective roles – feeding off each other as the first one provokes a thought which sparks off a reaction in the other then the other returns the compliment.
It's a bit like a closely fought tennis match set to music.
As the night progresses we discover they were at the same school – Kayla was a tough member of a girl gang who bullied G – G spent most of his time in solitude, hiding with only his orange earphones for company.
Naturally he remembers her far more than she remembers him. Equally naturally G has succeeded in life whereas Kayla has failed to fulfill any of her teenage dreams.
This is of course a well-used cliché but it is also more often than not a truism.
Most of the Silicon Valley billionaire computer company founders tell stories of being the school geek who was bullied and the best looking cheer leader who married the beefcake school football star often ended up being the sad, big fat obese couple when their crowns soon tarnished in the real world.
The clever bit in the writing is that there are several layers of depth to this cliché.
G despite being successful as a pop music engineer had not found happiness with either sex in relationships. In a way Kayla still manages to bully him by scratching at those wounds. Will they get together? Would it work out if they did?
The REP has long been pioneers in promoting new ways of making theatre acceptable to a wider audience through imaginative use of audio visual and human signing. In this production the signer – Ciaran Alexander Stewart gets equal billing alongside the cast of two actors and even a name – 'Remix'.
He gets the best costume too and is more often than not centre stage and even joins in some of the dancing.
He is fact quite brilliant in the role – to me though I found this was at the cost of allowing G and Kayla to cross over the fourth wall to us between cast and audience. Our eyes were too often on Remix or the word screen.
The play runs at 75 minutes without an interval and seems just about the right length.
Paines Plough, and here's a nice piece of trivia, got their name on the night the company was conceived, at the Plough Inn drinking Paines bitter – offer an original nights theatre once again.
It is well worth a trip into Birmingham for this – it runs until Saturday, September 22.
Visit https://www.birmingham-rep.co.uk/whats-on/pop-music.html for more information and tickets, which start at £10.
Review by Euan Rose.