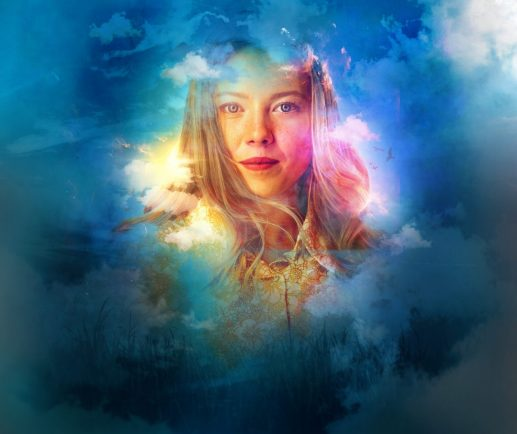 I HAVE not personally read Alice Sebold's 2002 novel, but several members of my family have and concur with its reputation as a literary sensation.
'The Lovely Bones' is based on true events about 14-year-old teenager, Susie Salmon just entering her prime and having her rite of passage denied by being hideously raped and murdered.
This may sound about as bleak an evening at the theatre as it's possible to envisage, but I assure you it's not.
This fast moving adaptation by Byony Lavery; directed cleverly by Melly Still is compelling on many levels, contains much humour and overall is a stand alone triumph.
The story is told through the eyes of Susie Salomon herself, a delightfully sparkling 'Tinkerbelle' like performance from Charlotte Beaumont who after her murder, watches over her family and friends in a celestial stroppy teenager manner from some version of a heaven.
She of course wants them to capture Mr Harvey, a suitably skin crawling performance from Keith Dunphy who oozes' Uriah Heep' like platitudes to her family and the police.
We know he is guilty as of course as we watched him do it – everyone suspects his guilt but so cleverly has he covered his tracks that all that is left of Suzie to discover is her elbow. Susie is not his only victim – Mr Harvey is a serial killer – just how many poor young girls he has robbed of their precious years is shown in one of the heaven scenes where the other victims make themselves known to Susie by way of a macabre gathering of different sized girls dresses brought to life by arms acting as puppeteers.
Susie tries to reach out to her grief stricken father Jack Salmon (Jack Sandle) as he descends to a place where he shuts himself off from the rest of the family bringing about a reaction of sexual betrayal from her mother Abigail (Emily Bevan).
As a separate character to the 'Salmons' Bhawna Bhawsar puts in a fine performance as Ruana Singh the mother of Susie's school crush Ray (Karan Gill).
Her dignity in the face of blatant police racism hits just the right tone. She also doubles as Franny, Susie's spirit guide in heaven.
Another noteworthy performance is from Ayoola Smart as Susie's sister Lindsey, who shows great emotion in dealing with her own loneliness and guilt.
What makes such a complex tale so easy to follow is the ingenious set by Ana Ines Jabares-Pita which features a huge tilted mirror that moves to allow different locations to be displayed simultaneously.
For instance, we see Mr Harvey cleaning up blood in his death pit whilst the Salmon family are being told Susie's disappearance is now being treated as murder.
Likewise, Susie's reflective scenes in heaven happening simultaneously with normal events in the real world cross two worlds. It's very clever and quite ground breaking.
This is cutting edge theatre presentation at its sharpest whilst retaining the heart of a powerful and shocking story. Well worth seeing.
It runs at the Birmingham Rep House until next Saturday, November 10. Visit https://www.birmingham-rep.co.uk/whats-on/the-lovely-bones.html for more information and tickets.
Review by Euan Rose