THEY came in their droves, fans of all ages of one of the most popular sitcoms ever – 'Benidorm'- to see the actors that had given them so much pleasure on the small screen come to life on the Alexandra stage.
Even more poignant is this live show, as the TV series has aired its final ever episode.
There was a pre-curtain buzz in the audience that was infectious, the excited chatter you experience on a packed plane leaving a cold climate and taking off in search of sun, sea and sangria. Yes we are off to sunny Spain – Y'Viva Espana!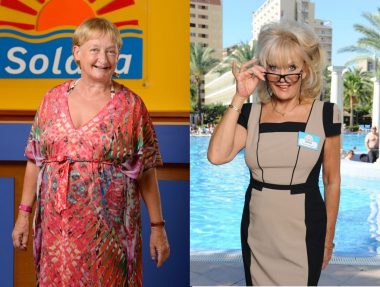 Mark Walters, the designer does a grand job in helping the transportation process with his clever staging – that plus cracking warm lighting from the LD Ben Cracknell and the Alexandra Theatre management whacking the central heating to almost shorts and bikini temperatures.
With the oh-so-familiar Benidorm theme tune completing the transformation, we land at the three star Solana Hotel to find a worried Sherrie Hewson as manageress Joyce Temple-Savage reeling from the news the hotel is set to be taken over and everyone's job is on the line.
Worse still, undercover guests have been sent in report back to the board. Could it be that young Perkins couple snooty Sophie (Tricia Adele- Turner) and her downtrodden husband Ben (Bradley Clarkson)?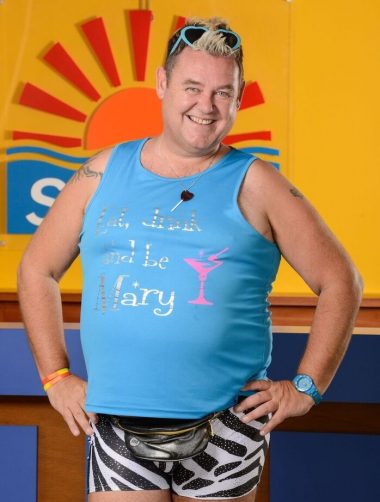 Joyce thinks so and lays on the seven-star treatment in the hope of a good report.
The plot is simple, who wants anything complicated tonight anyway – rather let's enjoy what writer, creator and – in this production – actor (he plays Gay Derek), Derren Litten has created – an adult pantomime. It is brash, bawdy and sometimes downright filthier than ever made the pre-watershed TV screen, but it oh so deliciously funny!
As each of the familiar faces make their entrance they are greeted with wild whoops and applause from the audience like they were the matinee idols of old. There's half lothario/half gigolo Mateo toned and played to Spanish smarmy perfection by Jake Canuso.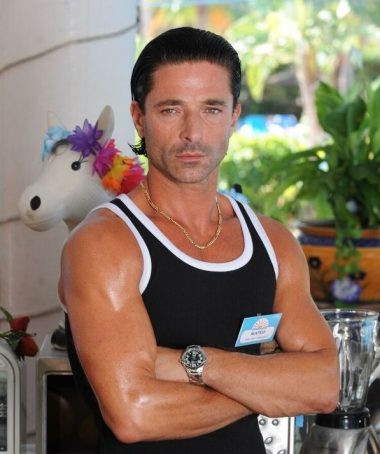 Also the hugely talented, unmissable duo of queen of camp Kenneth (Tony Maudsley) and his permanently stressed out sidekick Liam (Adam Gillen).
Janine Duvitski is at her outrageous best as swing-ding enlister Jacqueline and Shelly Longworth brings us a big warm glow as Sam. These plus some newcomers talk, cavort, sing and dance us through one memorable evening all brought together by director Ed Curtis.
Park your political correctness at the door, put all thoughts of BREXIT out of your head and just enjoy yourself.
Book soon as tickets are becoming a rarity.
The Benidorm stage show runs at the Alexandra Theatre in Birmingham until December 29.
Visit https://www.atgtickets.com/shows/benidorm/alexandra-theatre-birmingham/ for more information, times and tickets.
Review by Euan Rose