IN A FEW weeks of firsts, this was my first time walking through Birmingham City Centre from New Street Station since before the lockdowns started. I was quite taken aback by the freshness of the air and the sparseness of the traffic. Goodbye mean streets – hello clean streets.
I spied lots of new restaurants plus some old favourites on my stroll to The Old Joint Stock Theatre. Lots of places to sit as well – which I did for a while and simply watched the world go by.
In truth I felt like I had travelled forward in time, people were flying about on scooters and bikes, narrowly avoiding pedestrians and many were dressed either in suits which were fashionably undersized, or posh denim meets linen grunge.
Haircuts were something else too and dyed every colour of the rainbow.
Bear with me, there is a purpose to this long preamble to my review of 'Little Shop' – like most of my chums it's taking a bit of courage to go back into town, but having now got back in the saddle I want to encourage you to do the same.
The Old Joint Stock is a splendid 100-seater studio theatre housed on the top floor of an equally splendid pub. It was actually built as a library back in 1862, then became a bank and finally one of Birmingham's top venues serving top quality ales, food and theatre.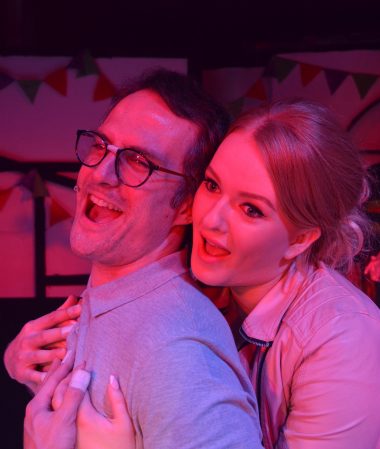 I have learnt to always expect the unexpected at the OJS and their version of 'Little Shop' was just that. The audience are housed on skid row right outside (and sometimes inside) Mr Mushnik's flower shop. For any of you that might not be aware of the story, it's a cautionary tale about a talking, man-eating plant from out of space.
In this case, you can add walking to the talking as director Adam Lacey has cleverly chosen to free his plant from its pot.
Named Audrey II in homage to Mushnik's lovely shop assistant Audrey, Number II may start out as tiny cactus but ends up as a psychopathic, botanical hobgoblin in a psychedelic jumpsuit. Matt Bond revels in the role and certainly doesn't hold anything back – it's like watching Freddie Kruger on speed. Bond has the most amazing singing voice too, which adds a whole other dimension.
He is complemented by a company of great voices – individually strong, collectively awesome. Thomas Cove's Mushnik rivals Topol's Fiddler and Bradley Walwyn's Orin makes the most bad-ass dentist you'll ever see – so glad he gets gobbled up. Hope it hurt!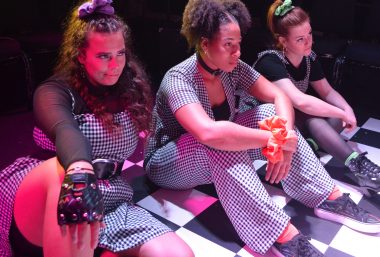 Bella Bowen delightfully understates Audrey – she's the girl next door we all should have married.
Alex Wadham makes a magical job of everybody's favourite nerd, Seymour. Like Bond and Cove, he too is blessed with a magnificent set of tonsils.
The rest of the company applies their multi-talents to the collection of minor characters and ensemble. Hannah Victoria was quite a stand out for me in a minor role, as a compelling 'Ronnette'.
Lacey has done his job well – the pace never sags, the show is well staged and his team is drilled to perfection. Pippa Lacey as choreographer again brings originality and sparkle to the show and Jack Hopkins musical direction simply rocks!
It runs until September 26. I urge you to book, go back into town if you haven't already and experience something very special.
Click here for times, tickets and more information.
****
Review by Euan Rose
Euan Rose Reviews.