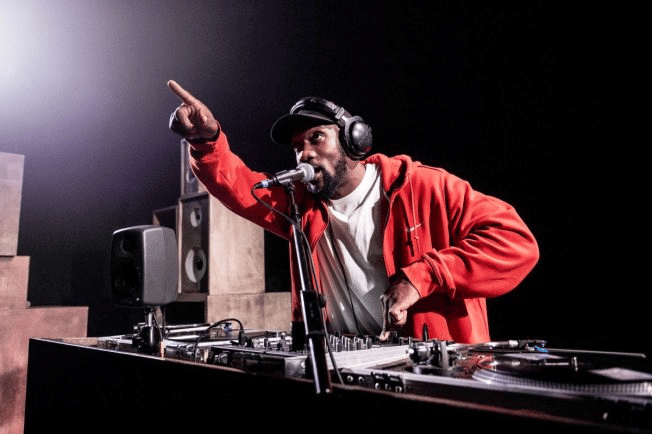 CASEY Bailey is the Birmingham Poet Laureate 2020-2022 – 'Grimeboy' is his first major play, directed by Madeleine Kludje with a tight hand on the pulse.
The story concerns Grimeboy and Blue, two grime MCs, both moving rapidly up the rap-ladder. They meet whilst competing at a local 'battle'. Kindred spirits with mutual respect for each other's talents makes them decide to become a duo.
Whilst Blue is hot-headed and quick to explode, Grimeboy is more even-tempered. Grimeboy does his best to change the thinking of his new best buddy, explaining violence is never the answer. He lets him into his dark secret that he stabbed someone himself and that an innocent person took the prison rap for knife possession for him.
Blue takes a vow to be less aggressive and the two start cutting an album together in a bedroom studio. However events dictate differently as Blue is mugged and murdered by jealous rivals.
A grief-stricken Grimeboy almost gives up music permanently but is persuaded to perform his completed album 'Forever Blue' to a packed stadium in triumph and tribute.
Keiren Hamilton-Amos is the full package as Grimeboy, compelling narrator, credible in character and abundant in talent. The intimacy of The Door meant his performance was as personal as it was complete.
Alexander Lobo Moreno also puts in a strong performance as Blue. He is feisty and moody with a dollop of dry humour thrown in.
Corey Weekes as Jay and Auden Allen as DJ complete the company both in gifted individuality and as necessary synergy in the fast moving story.
Designer Ebrahim Nazier gives us a set comprising speaker columns which break down and build up to form intriguing spaces and as all-seeing observers. They even become knives in the death scene.
Ryan Joseph Stafford, LX designer, creates a world of half light and moody shade, where shadows walk alongside the narrative.
Clive Meldrum's sound does full justice to Auden Allen's musical composition.
Casey Bailey's script is much more than a story about grime rappers – it's a comment on young black life struggles – where peer pressure rules, you're never fully dressed without a knife and the desire to achieve may not be a beacon, but it is an inextinguishable flame.
Bailey's lyrics are clever, biting and often beautiful – undoubtedly he is a huge talent and is served well here by the Rep's company of top-boys.
Grimeboy runs at The Door until next Saturday, April 30. Click here for times, tickets and more information.
****
Review by Euan Rose
Euan Rose Reviews