THIS MULTI-media production is no Disney-fied, sugar-coated version of 'The Jungle Book' – instead it is a full-on assault on the senses, employing every conceivable effect to engage and enthral the audience. Taking inspiration from Rudyard Kipling's Jungle Book series of stories originally published in 1894, this production is set in a post-apolcalyptic world when global warming has caused lands to submerge, forcing the human population to search for higher ground.
A young child finds herself separated from her family and ends up in a land where animals of all shapes and sizes have taken over and formed an uneasy alliance as they try to navigate the new world order without humankind. The child is taken in by a wolf-pack and named Mowgli. The wolves are under threat by another human, a hunter, who keeps them in constant fear. Mowgli is kidnapped by the Bander-log – former lab-monkeys on whom humans had inflicted all kinds of experiments and who now want Mowgli to teach them how they can become human themselves.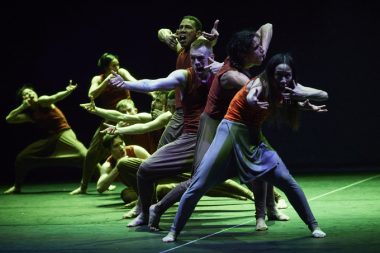 With the help of Kaa, a python, Mowgli is rescued by the panther Bagheera and Baloo, a dancing bear and returns to the wolf-pack. But as the hunter gets closer to their territory, they realise the fragile peace the animals have forged is under threat once again – can Mowgli save them?
Director and Choreographer Akram Khan cleverly brings together a soundscape created by composer Jocelyn Pook with digital animation by Adam Smith and Nick Hillel and live action from his extraordinary dance company to create a compelling and thought-provoking piece, with imagery that pops into your head long after the curtain has come down.
The stage is fronted by a barely visible gauze, onto which are projected beautifully animated line drawings. This effect allows the performers to dance seamlessly within the animations enabling them to interact with giant elephants, birds and other creatures, create stormy seas and fire arrows across the stage.
The animations are stunning in their simplicity – birds that fly, leaves that float gently to the ground, water that rises, a herd of elephants that cross in front of our eyes. It's all so believable that I found my eyes watering when the hunter shoots Chili – the Kite who has watched over Mowgli – and a flock of birds come to carry him skyward.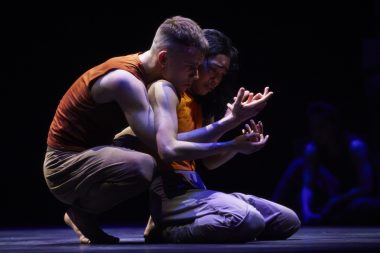 The animated scene at the beginning has the child floating on a raft in stormy sea with her parents, echoing the journeys made by migrants. When the child fell off the raft and down into the depths of the ocean, the audience collectively held its breath until she struggled to the surface. Later, the hunter is 'drowned' in a sea which brilliantly combines live action with the animation so that you cannot see where the digital effects end and the 'real' action begins.
Pook's sound track is utterly mesmerising – mixing music and sounds from different cultures including Indian song, chants and, at one point, Latin with words and phrases relating to global warming such as activist Greta Thunberg's famous 'How dare you?' speech. Interspersed with the sounds of the jungle are news announcements about the global warming catastrophe as well as dialogue that tells the story.
Khan's dancers use this soundtrack as their 'music' – moving to the rhythms created by the voices and dancing through the dialogue. Costumes are minimal and the dancers are dressed uniformly, relying on their movements to convey which animal they are portraying. For the most part, this works well – the physicality and synchronicity of the dancers is breathtaking, but occasionally I found myself struggling to work out who was whom – when there was so much to take in visually, some of the more nuanced, subtle elements were lost.
The technical requirements of this production are huge – hats off to the whole team behind the scenes for making it all work.
Jungle Book Reimagined is a unique collaboration not just between different creative media, but also between a veritable who's who of production partners, all of whom should be congratulated for their vision in supporting this innovative and ground-breaking production.
****
Review by Johannah DyerFor Euan Rose Reviews