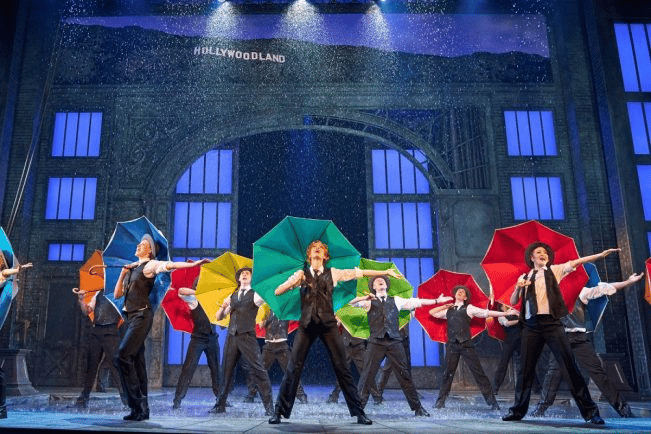 IT IS hard to believe the iconic 'Singin' In The Rain' film on which this show is based, hit the silver screen exactly 70 years ago.
It was directed, choreographed and starred the equally iconic Gene Kelly plus screen legends Don Lockwood, Donald O'Connor, Debbie Reynolds and Jean Hagen.
The movie broke new ground in nearly every area from dance to FX and is regarded by 'buffs' as simply 'the greatest musical film of all time'.
No small challenge then to bring the film to the stage – but one, which director Johnathan Church has done brilliantly. It is almost a carbon copy of the film brought spectacularly to life and that is a compliment not in any way a criticism.
Church transports us back to the 1920s and the world of big stars, big studios and big egos as the era of silent movies gives way to the birth of the talkies.
The choreography by Andrew Wright mirrors Church's direction in capturing all the memorable moments from the film and then 'dips them in chocolate' as the saying goes.
Costumery by designer Simon Higlett are a glorious technicolor collection of 20s chic and work in perfect harmony with his towering, grayish neutral set to create a fourth dimension in this stunning production.
An excellent on-stage band certainly let the toe-tapping rhythm rip under the baton of MD Grant Walsh. Barry Brewer the drummer deserves a special shout out for his hypnotic tom-tom work.
Sam Lips makes for the perfect Hollywood headliner, Don Lockwood, Charlotte Gooch is as sassy as she is perfect-pitched as new kid on the block, Kathy Selden, Ross McLaren is alternatively endearing and hilarious as Cosmo Brown and Jenny Gayner gets my vote as the ace in the pack. Her bitchy, bawdy 'not –so –dumb as she seems' blonde Lina Lamont is a musical theatre tour-de-force.
A flawless ensemble supports these top-drawer principals.
Moving to 'that song' and 'that dance' – sorry to use the 'I' word again but frankly, nothing else but 'Iconic' will do. Six thousand gallons of water pour down firstly on Sam Lips getting happily soaked to the skin as he is 'Singing in the Rain' and then we get a walkdown reprise with the whole company splashing up a triumph
The audience left buzzing and 'do-be-do-doing!' at the end of a long but wonderful evening.
I'd happily go back tonight,
Singing in the Rain runs at the Hippodrome until Sunday, June 11.
Click here for times, tickets and more information.
*****
Review by Euan Rose.
Euan Rose Reviews.