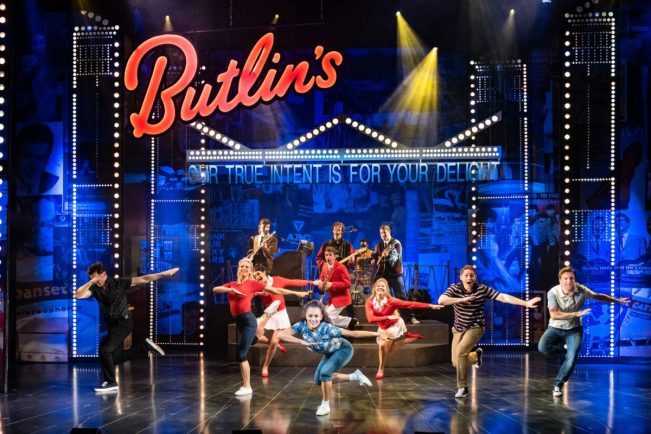 YOU'VE got to hand it to Bill Kenwright and Laurie Mansfield – like gold rush pioneers they struck a rich vein of audience back in 2009 with their first 'Dreamboats and Petticoats' – a musical celebration of 1950s and 60s rock and pop.
Now they just repeat the process every few years.
Last night it was 'Dreamboats and Petticoats 3' or to give it its full title 'Dreamboats and Petticoats – Bringing On Back the Good Times' which was what the majority of the septuagenarians and beyond audience at Malvern were there to do.
The sparse book by Laurence Marks and Maurice Gran makes little attempt to tell a story but is merely a series of sound bites and lifted end-of-pier postcard jokes as a means of joining up the songs. Such as mind numbing links like 'Bobby and Laura look happy together' – cue Bobby and Laura sing 'Happy Together.'
I am trying to resist being churlish – as I said Kenwright and Mansfield know their market and so do not take any chances by asking their audiences to follow any form of plot except for boy gets girl – boy loses girl then boy gets girl back again!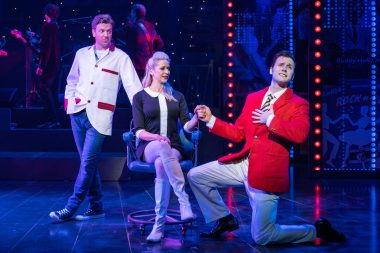 Picture by Jack Merriman. s
So in this show we have a youth club rock group 'The Conquests' who get a gig at Butlins in Bognor Regis. Now that brought back some memories for me – at 13 years old, I won a singing competition whilst on holiday there – singing Johnny B Goode.
The house band was Rory Storm and the Hurricanes with a drummer destined to be a Beatle – one Ringo Starr.
I am sure the songbook evoked a veritable profusion of memories for all the patrons and there really are some classics here including Connie Francis's 'Lipstick On Your Collar' and Eddie Cochran's 'C'mon Everybody'.
In addition to producing, Kenwright also directs – which he does with the affectionate touch of one who has obviously loved and lived in that halcyon era.
The choreography by Carole Todd is engaging and accurate – from the 'Shadows' dance steps of the guitarists to the hands in the air 'Stop! In The Name of Love' motions of the ensemble.
Kenwright is served by a 17-strong cast, who are all consummate multi-tasking professionals – they act, sing, dance and make their own music on brass, strings and percussion.
Mark Wynter, who at near 80 is one of a dwindling number of still working pop crooners from the late 50s, puts in a sprightly performance as talent agent Larry and gets to do a medley of his own numbers from half a century ago.
There is a stunning a cappella version of Blue Moon led by David Luke who plays Ray – it's beautifully sung and the complete tranquillity contrasts perfectly with the real rockers like Hang On Sloopy and Mony Mony.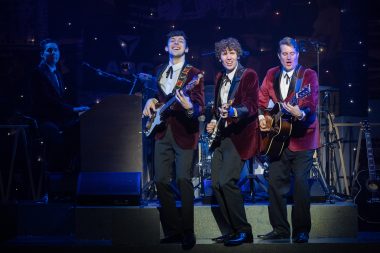 Picture by Jack Merriman. s
For me the highlight of the show was a Eurovision song contest section where our leads Laura (Elisabeth Carter) and Bobby (BBC Little Mix winner Jacob Fowler) singing as a duo are among three finalists to represent the UK.
Enter 'The Kellys' – a wondrous vignette featuring a parody of clean-cut 60s trio 'The Bachelors.' They spoof the very worst of Eurovision entries with a dreadful number called 'Whizbang Gang'.
The title 'Dreamboats and Petticoats' comes from a nine CD series from Universal Music so as we are only at number 3. no doubt there will be more shows to come and why not indeed? Malvern gave it a rapturous roar at the walkdown last night – many that could, stood and others waved sticks and banged Zimmer frames approvingly.
In essence, this show features an excellent, well-directed cast and a superb songbook – so yes bring back the good times but with perhaps a less crude and lightweight script.
It didn't help the cause that I had reviewed 'Beautiful' the Carole King musical the night before where the talented Douglas McGrath has written a book that is as sharp as it is crisp – lifting and complimenting the huge songbook.
Even so I'm sure the Dreamboats box office tills will continue to jingle-jangle regardless.
A final special shout out to audio man Chris Whybrow who delivered a pretty authentic 60s sound – Sheridan Lloyd for magnificent MD-ship and nimble fingered keys, plus my top man – Daniel Kofi Wealthyland – for being the most exciting drummer I've heard in a long while. He drove each number with a passion in every beat.
The show runs in Malvern until Saturday, September 3.
Click here for times, tickets and more information.
***
Review by Euan Rose.
Euan Rose Reviews.