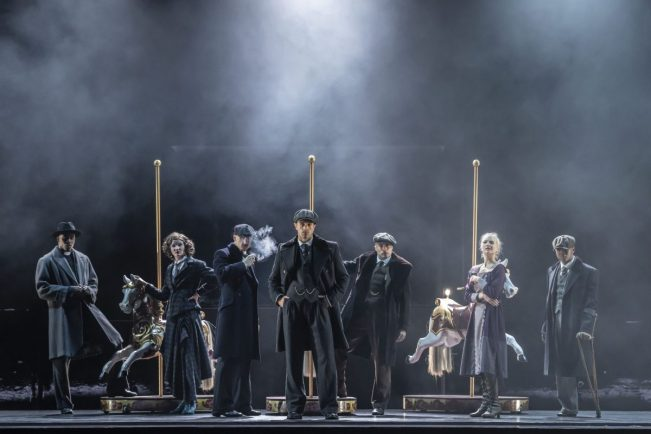 PRESS night for Peaky Blnders – The Redemption of Thomas Shelby' was a chance for the Hippodrome to play host to the great and the good of dance as well as the world's arts critics.
It did it in style at a glamorous reception where peaked caps met pearls-a-plenty.
This was followed by a full house performance where there were also caps-a-plenty amongst the 'Peaky Faithful' and 'Dance Aficionados' who combined in intrigue and anticipation to see how Steven Knight's graphic Brummagem gangland TV series could possibly be turned into ballet.
What followed from the first bang of a bass drum erupting like a mortar bomb was one of the most amazing nights I have ever spent in a theatre.
Rambert dance choreographer and director Benoit Swan Pouffer tells the Peaky Blinders' story from their emergence from an underground hell – comrades in arms as a First World War tunnelling brigade, through to the notoriety of Irish gypsies turned Brummagem business men with guns and their own sense of morality.
It is brutal stuff – blood flies and enemies are dispatched in numbers, an angry tale full of debauchery and decadence told with passion and pride.
All the feared and beloved Peakies are there including Guillaume Queau glorious as Thomas Shelby, Conor Kerrigan as his half–mad elder brother Arthur, Simone Damberg-Wurtz as Aunt Polly, Naya Lovell as Tommy's love of his life Grace Burgess and Adel Balint as Ada. I single these names out only because they are the most well-known characters – the whole company, magnificent in diversity, are individually and collectively triumphant.
There is amazing music composed by Roman GianArthur and performed by classical rock musicians – Yaron Engler on drums/percussion and vocals, James Douglas on cello/bass and vocals and The Last Morrell on guitar/keys and vocals.
Set designer Moi Tran has created a multi-levelled place of smoke filled mystery and imagination where the musicians merge with whores, gods, animals and gangsters. It's an extraordinary concept – like something from the House of Marvel.
The Lighting Design from Natasha Chivers complements Tran's set – it's dark, stark and moody – ideal to display Richard Gellar's awesome costumes.
The sound design from Moshik Kop is loud, relentless and seemingly comes from everywhere. The wonderful and macabre illusions from Filipe J Carvalho add another level.
Carousel horses are ridden like racehorses, sparks cascade as inverted fountains over Birmingham foundries accompanied by the deafening pounding hammers of the machinery in this city of a thousand trades. There is even a gypsy wedding and a gypsy funeral where a Blinder is traditionally cremated in a blazing caravan.
The fight scenes directed by Adrian Derrick-Palmer move with the speed of a classic kung-Fu movie. The dancers perform giant leaps and physical impossibilities.
Whilst act one concentrates on the rise and rise of the Thomas Shelby and his extended family, act two goes into an even darker fantasy world. Here a distraught Thomas Shelby having lost his wife to an Italian gangland bullet seeks solace in opium dens. We go with him on a cerebral trip where sex and fantasy merge and float on clouds of scented hallucinatory smoke whilst the sky rains poppy leafs.
The finale – like Steven Knight's wonderful series – ends in a will he/ won't he live scenario.
A piece of trivia here is that the last time I saw a Peaky Blinder on stage at the Hippodrome was back in 2010 in 'Wallop Mrs Cox' – a musical I wrote the book for in 1998. It started at The Crescent, and then had two runs at The Rep before the Hippodrome.
Pre-curtain, the lines I wrote came flooding back: –
'Folks still recall that incredible brawl,
What happened in 36.
When one day through the barracking racket
Mrs Cox clocked a look on the bracket
Of a man who was sort of a Bull Ring minder
Locally known as a Peaky Blinder
So called 'cause of the blades secreted in his cap
Altogether a thoroughly unpleasant chap!'
Knight's first award winning TV season came three years later in 2013 and Peaky Blinders became a worldwide household name bringing pride and to our accent and tourism to our city.
As Aunt Polly famously said "Don't f*** with the Blinders". Well Rambert Dance certainly hasn't! In fact they've taken the Shelby clan into a fifth dimension. This is a groundbreaking triumph that demands to be seen.
The tour takes off nationwide, so if you can't beg borrow or steal a ticket this week, don't worry it finishes back here at the Hippodrome next March. Book now – t'would make an awesome Christmas present!
Peaky Blinders – The Redemption of Thomas Shelby runs at the Hippodrome until Sunday, October 2. Click here for times, tickets and more information.
*****
Review by Euan Rose
Euan Rose Reviews