BASED on true events concerning the brutal murder of a 14-year-old teenage girl, Alice Sebold's 2002 novel of 'The Lovely Bones' quickly became a modern classic.
This fast-moving stage version by Bryony Lavery proved an excellent choice for Birmingham Ormiston Academy's young stars of tomorrow under the creative flair of tutor and director James Lees.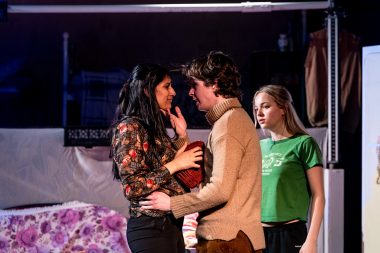 Picture by Steve Gregson. @stevegregsonphotos
The play is set in Norristown, Pennsylvania, in 1973 and the following eight years. It's not a 'whodunit', because we see him do it – George Harvey the hideous perpetrator that is.
The uniqueness of the story is that it is told through the eyes and protestations of the dead girl, Susie Salmon who is stuck in some form of pre-heaven in a teenage strop trying to come to terms with the fact she will never achieve her rite of passage.
She also tries hard to communicate with her family and to tell them where her body is and who mutilated and defiled her.
In truth everyone suspects Harvey's guilt but so cleverly has he covered his tracks that all that is left of Susie to discover, is her elbow.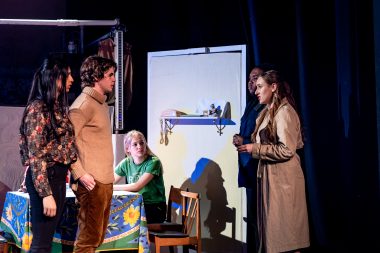 Picture by Steve Gregson. @stevegregsonphotos
As with all plays in this BOA season, some of the parts in the show are double-cast. This shares the leading role opportunities and provides discussion points of the experience for the students.
In the company I saw, Lucy Johnson faultlessly carried the role of Susie Salmon on her young shoulders. She made us shed tears – both of sadness and laughter as we shared her journey.
Dexter Robinson was excellent as loathsome serial killer George Harvey. Robinson walked the crooked line well – making the skin crawl as he crept around, reveling in the chaos he caused to the Salmon family. He was akin to an incubus feeding on the stuff of other people's souls.
Josh Smith makes much of the role of Susie's father Jack Salmon and his all consuming descent into depression.
Kareena Sangha captures Susie's mother Abigail's desperation as she becomes estranged from her husband. She tries to move the family on with life after the tragedy but to no avail. Failure leads to her betrayal and infidelity.
There were more engaging performances too from Kathryn Duffy and Ria Francis as Susie's sisters Lindsey and Lynn.
Lucy Ribbands was compelling as Susie's spirit guide Franny, Poppy Scruton made a good frustrated sleuth as Detective Feneman and Anoura Gbingie was exultant Ray – Susie's schoolgirl crush.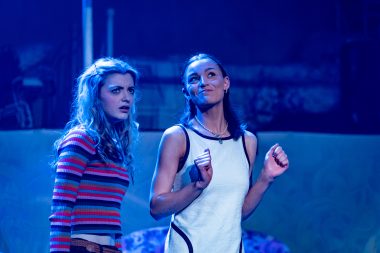 Picture by Steve Gregson. @stevegregsonphotos
I'd like to give a special shout-out to the two 'Holiday the Dog' puppeteers Dasha Simakina-Foster and Lois Stevens. If only dogs could talk, Harvey would have met his demise in the chair they still use to this day in Pennsylvania.
Having got more females than males to tread the boards it is clever casting from Lees to make this a gender-fluid production.
That, coupled with some very impressive ensemble work, including the shocking but brilliant 'Slaughter of the Innocents' end to act one ensured his own personal stamp.
I am always delighted to see BOA and once again there was a wealth of talent on display – it warmed the heart to observe the next generation in action.
Review by Euan Rose
Euan Rose Reviews