WHEN the announcement came over the tannoy the show was going to be late starting due to 'technical issues', the audience waiting to get into the auditorium shared a smile – thinking it was all part of the performance.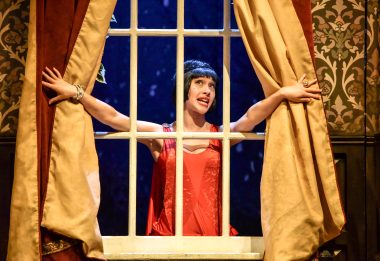 For this is a comedy about a student theatre company staging a play that, as the title suggests, goes very wrong.
However, the technical issues were in this instance genuine and one can see why – this is a show that on the surface is all cleverly-timed slapstick, but underneath there are a myriad of props and staging that all have to be perfectly set in order that they can then go 'wrong' at the right moment. One prop incorrectly set can upset the timing of the whole show – and perfect timing is the key to getting the laughs.
The play is a play-within-a-play – The Cornley Polytechnic Drama Society are setting the stage for their production of 'The Murder At Haversham Manor' and even as we enter the auditorium, things are not going well.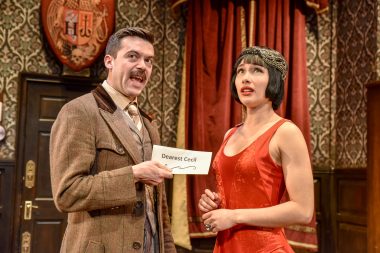 The company dog has escaped resulting in a search through the theatre, some of the scenery is not in in place necessitating the assistance of an unsuspecting member of the audience and the stage crew are panicking as curtain-up time approaches.
These antics have the audience giggling from the start. Once the play itself – a corny 'whodunit' – begins, we are treated to two hours of breathless entertainment that has the audience roaring with laughter.
The timing is perfection as everything on the stage begins to fall apart, actors are injured by falling sets, lines and cues are mistimed, props misplaced and the director has a breakdown as what should've been his theatrical triumph disintegrates around him. His actors take the 'show must go on' mantra to the max and this is what drives the comedy.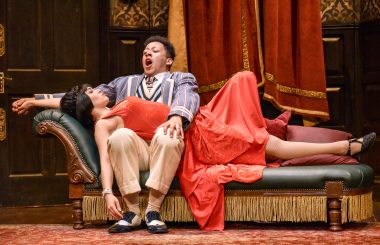 The writers of this piece of manic genius are Henry Lewis, Jonathan Sayer and Henry Shields, the set designer is Nigel Hock and the tour director Sean Turner.
The ensemble cast work so brilliantly together that it would be churlish to single out any one performance. Each role requires huge amounts of physicality – not least when parts of the 'set' collapse, leaving them hanging literally on the edge as the audience gasp.
In fact, there were many 'gasps' mixed with the laughter as we marvelled at the technical wizardry – not so much a 'whodunit' as a 'how did they do that'?
The Play That Goes Wrong runs at the Alexandra Theatre until Saturday, May 21. Click here for times, tickets and more information.
****
Review by Johannah Dyer.
Euan Rose Reviews