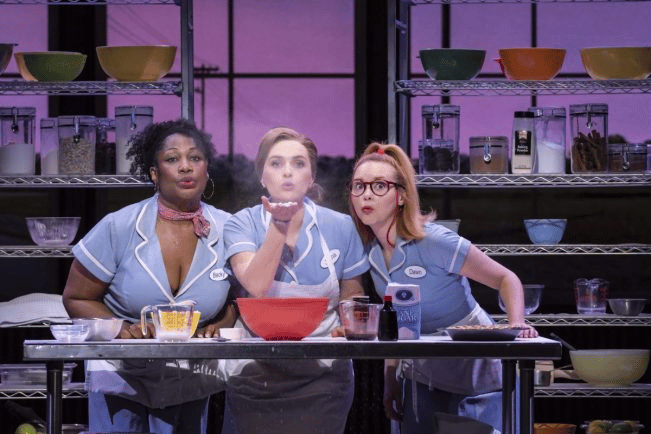 IT IS A rare treat that I get to review a musical about which I know very little – consequently seeing 'Waitress' the musical, was a bonanza of a discovery which is still ringing in my ears the morning after.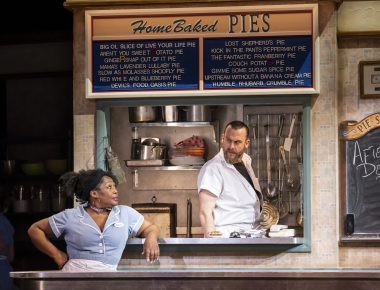 Picture by Johan Persson. s
The show is based on a 2007 movie written and directed by Adrienne Shelly.
Jessie Nelson wrote the book for the stage and Sara Bareilles supplied music and lyrics.
It seems fitting that director Diane Paulus and choreographer Lorin Latarro completed this all female production team to take it to Broadway and the West End.
Why fitting? It was a pre-Covid show at the height of the 'Me Too' uprising, which features a misogynist baddy.
The baddy in question is the narcissistic Earl, an intensely brutish outing from Tamlyn Henderson, the loathsome husband of Jenna our waitress, as in the title.
As well as waitressing, Jenna is the baker of fabulous pies at Joe's Diner. She loves her job – it is her only respite from an abusive marriage. Jenna wants, indeed, plans to escape from Earl but disaster strikes when she discovers she is pregnant with his child.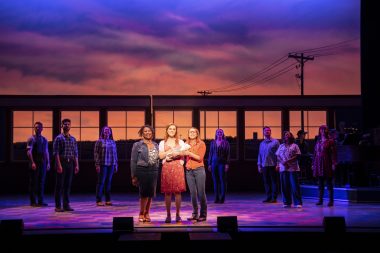 Picture by Johan Persson. s
Wendy Mae Brown and Evelyn Hoskins play Becky and Dawn – the other two waitresses in Joe's Diner.
They are both equally superb in their roles as supportive friends to Jenna with terrific back stories in their own right.
Chelsea Halfpenny is simply a tour de force as Jenna, faultless to the core and endearing in all she does – the applause that greeted her solo 'She Used To Be Mine' was roof raising.
Michael Starke as Joe the diner owner is downright endearing – he's the polar opposite to despot Earl, an aging, caring gentleman of worth. His rendition of 'Take It From An Old Man' brought a big lump to the throat.
George Crawford is scene-stealing as the eccentric Ogie who woos Dawn after meeting online and finding they are kindred spirits and re-enactment geeks.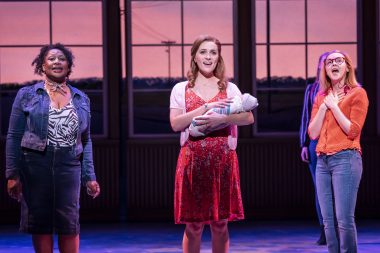 Picture by Johan Persson. s
Matt Jay-Willis gives a masterful performance as Dr Pomatter in a company that is just full of them. Jay-Willis captures the vulnerability of a shy, set-in-his-ways medic who discovers an all-consuming wild side. Having your pie and eating it is my 'go see' spoiler for you to muse on.
Everything about this show is joyous from the slick setting by Scott Pask to the fabulous orchestra under the baton of Ellen Campbell.
The story is as powerful as it is raucous and raunchy – it delivers on so many levels and develops like peeling an onion, with a fresh layer with every scene. It has impeccable pace and pitch and will have you laughing one minute and weeping the next.
Joe's diner was indeed a delight and the waitresses delightful!
The show runs at the Birmingham Hippodrome until Saturday, May 21. Click here for times, tickets and more information.
*****
Review by Euan RoseEuan Rose Reviews