DUE TO A positive test for Covid, I was a little late to see this show, which had been high on my priority-reviewing agenda, and so it was my first trip out after getting the non-contagious all clear.
It was certainly worth the wait and I only hope that with just a few performances remaining, I can encourage as many of you as possible to experience this Crescent near masterpiece.
Bruce Norris wrote Clybourne Park in 2009 for which he won both a Tony and a coveted Pullizer in America, plus an Olivier when it opened in London a little later.
In truth it is not really a groundbreaking piece of theatre – controversial – yes – dealing as it does with racism and all the other 'isms' you can think of, but it's in the clever storytelling of how balances have shifted over the decades that sets it apart.
Norris is a master of his craft, a weaver of plots and purveyor of blistering scandalmongering caustic dialogue, which is an actor's box of delights.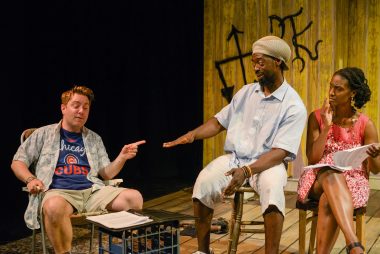 Joy of joys the company also get to double as the play is divided into two acts with different characters linked by a common theme namely the said Clybourne Park property, which changes from an all white neighbourhood in the 1950/60s to run down black ghetto period and back to President Obama time when it was set to become multiracial and chic again.
Director Stewart Snape always impresses with his attention to detail and once again it is the little things that gets his stamp – let's call it 'Snapeness'. One example is the intricacy he has directed his actors to show in something as simple as moving a trunk.
He gets players to point up its significance verbally in conversation and with guarded aside glances before we see it. We hear it thump before we see it too and when we do, he lets us know it's heavy then teases us as to what's inside.
That trunk effectively became as important as any of the cast, and as memorable as the bone-throwing opener to Kubricks '2001 A Space Odyssey'.
Besides 'the trunk' there are also other outstanding performances.
Liz Plumpton as apple-pie, white liberal with a small 'l' mum, Bev, which she contrasts with feminist lawyer Kathy in Act 2.
Then there's Shemeica Rawlins as Bev's compliant maid and token black buddy Francine in Act 1 and modern gutsy 'take-no-nonsense' Lena in Act 2.
Rawlins is partnered in both acts by Papa Annoh Yentumi (what a wonderful name) – he's her quiet respectful know-my-place afro-haired husband Albert in Act 1 and loud successful 'read my lips' Kevin in Act 2.
Paul Forest reminded me of crooner Pat Boon in Act 1 where he plays 'all teeth and smiles' local white pastor Jim. Boon was also a pastor in gated community Palos Verdes LA, an area I knew well in the 70s. Forest doubles this effectively as the methodical community group leader in act 2.
James David Knapp gives two powerhouse outings firstly as Karl, the angry white neighbour who doesn't know or care that he is a rabid, raging, racist and the bigoted, foul-mouthed Steve who is more of the same but doesn't admit it a few decades on.
Grace Cheatle partners Knapp, firstly as his pregnant, deaf wife Betsy who is an awe of her husband and secondly as Sfeve's pregnant and possibly soon to be ex-wife Lindsey in Act two, as she reels in horror at his stomach churning diatribes.
Lastly comes the zenith – a commanding contribution from Colin Simmonds as Russ, Bev's husband in Act 1. Every twitch of the eyebrow, every rumble in the throat was a joyous addition to a mighty characterisation. His journey from smile to scowl and from control to explosion was spellbinding.
Simmonds bit part character in act 2, as Dan the clearing contractor, might well have been a scene-stealer if he hadn't been amongst such talent.
Snape designed his own production frocks and like his direction the attention to detail is exemplary.
Colin Judges set was the stuff of a designer who doesn't cut corners in meeting a challenge. His transformation from classy suburb to run down hood is nothing short of genius. I could happily have spent the interval watching it happen if we weren't banned from observing the witchery.
This production is theatre at its finest – it deserves bigger audiences than just the Crescent faithful. The productions in the studio just keep getting better – catch it before it closes and book for whatever is coming next.
Clybourne Park runs at the Crescent until Saturday, July 16. Click here for times, tickets and more information.
*****
Review by Euan Rose
Euan Rose Reviews