WHENEVER I review 'Tread The Boards' at their gloriously bijou Attic Theatre home in Stratford, I wonder why I have left it so long again between visits.
After all, I always come away elated having witnessed some pure and inclusive theatre.
Last night was no exception as the company performed an adaption by Jonas Cemm of Bernard Shaw's Pygmalion with all the gusto of the 'Charge of the Light Brigade'.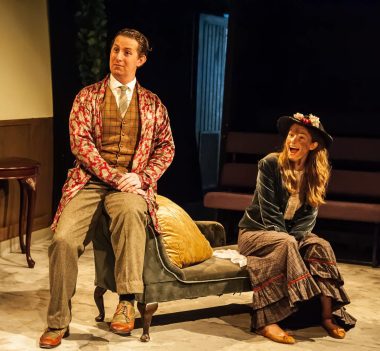 Shaw named his play Pygmalion after a Greek mythological chap. He was apparently a Cypriot sculptor who strove for perfection and when he finally created his perfect stone woman, he fell in love with her.
It is actually a very clever title and one, which aptly describes Prof Henry Higgins and his relationship with Eliza Doolittle. Her
transformation from urchin flower girl to lady of distinction has fascinated generations since it premiered in Vienna back in 1913.
John-Robert Partridge directs this show and also plays Higgins. He does the later with all the ego and narcissism of that obnoxious spoilt resident of Toad Hall. It's beep-beep, poop-poop full throttle all the way and a delight to wallow in.
His 'partner in cloning' Colonel Pickering is played at completely the opposite end of the spectrum by Phil Jennings. His voice is as rich as his smile and he is as warm as Higgins is cold – they make for the perfect duo.
Emmy Coates as Eliza is the complete package as she transforms from whining fishwife to elegance personified. Quite simply Coates is the best Ms. Doolittle I have ever seen – and I've seen a lot over the years.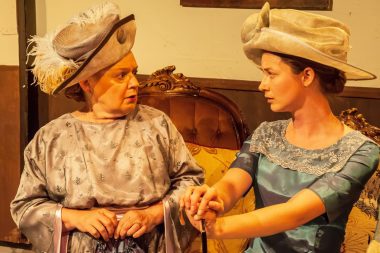 Lesley Wilcox plays Henry's Mum – she sounds as elegant as he looks. Wilcox's voice is like enjoying a cup of hot rich chocolate, which is to be savored every time she is on stage.
William Hayes is a suitably roguish Alfred Doolittle, Lucas Albion a likable buffoon as Freddy Eynsford Hill with Dawn Bush doubling as Freddy's mum and Mrs Pearce, the long-suffering Professor Higgins's housekeeper.
Cerys Evans as Clara Eynsford Hill completes the company and makes the most of her few lines.
They are a well-drilled talented bunch that never stop sharing across the curtain line, which is why I started by saying this is 'inclusive theatre'.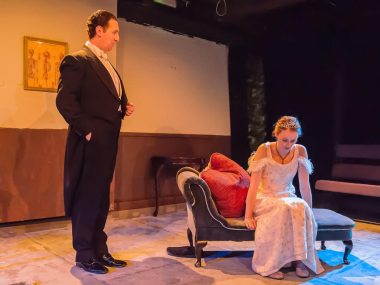 The fourth wall twixt audience and cast is shattered into a thousand pieces – Joyous stuff indeed.
There are just a few performances left of Pygmalion, which is being performed in tandem with 'The Importance of Being Earnest'.
After that come A Midsummer Nights Dream and The Three Musketeers.
Treat yourselves to a day or night out watching the Midlands' finest fringe theatre company. Loads of choices of eateries nearby and you can enjoy a drink of cleansing ale by the river in Cox's Yard and chat with the swans pre-show.
The show runs until Sunday, July 31. Click here for times, tickets and more information.
*****
Review by Euan Rose
Euan Rose Reviews