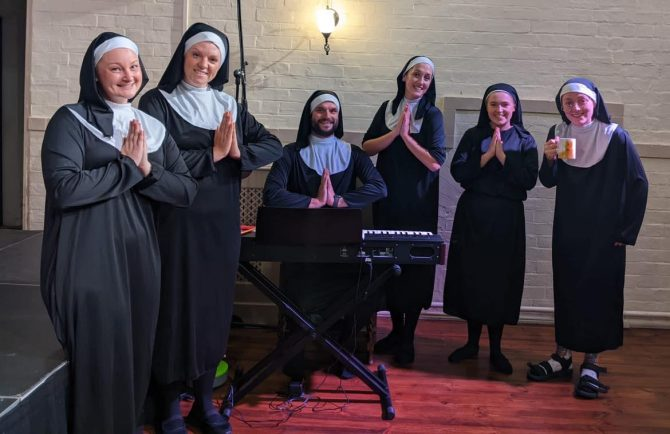 THE CHOSEN venue seemed surprisingly appropriate for Starbuck Theatre Company's staging of 'Nunsense' – a musical about fund raising Nuns in a village hall.
The action begins from the moment you set foot in Hanbury Village Hall and get ticked off on the register by a box office Nun.
Turn to your left into the make shift auditorium and there's another Nun, the bearded 'Sister' Gareth Price-Baghurst, smiling and playing jolly tunes on the keyboard. Indeed, this hard-working Sister not only accompanies the two act mayhem throughout but does not even stop for a break at the interval.
Dan Goggin wrote 'Nunsense' back in 1985 and directed it himself in an off- Broadway production in December of the same year. Originally booked for just a short run at the Cherry Lane Theatre, it was so successful that it moved to the larger Douglas Fairbanks Theatre where it ran for 10 years – making it the second longest running off-Broadway show in showbiz history. (In case you were wondering the longest by a theatrical mile is 'The Fantasticks')
The story concerns five nuns who, along with 14 others, are the sole survivors of the 'Little Sisters of Hoboken' missionary order. Apparently their cook Sister Julia had accidently killed off the other 52 Nuns with a deadly pot of her vichyssoise.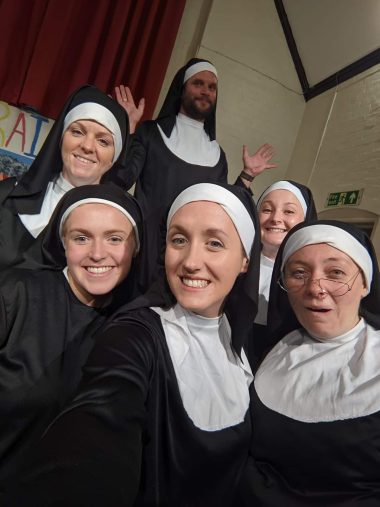 The lucky survivors were off playing bingo and so avoided the temptations of the lethal soup.
As there is not enough money in the kitty to bury the last four of their fallen chums, the incumbents are stored in a deep freeze whilst the 'Famous Five' nuns seek to raise burial funds at a concert to which we are all invited.
They comprise Ashley Aston as Sister Mary Regina who was a former circus performer before taking up the habit – she is also the Mother Superior. Her competitive number two nun is Sister Mary Hubert played by Lila Thompsonm Sarah Pavlovs is a streetwise nun, Sister Robert Anne, Louise Ford plays Sister Mary Amnesia who has a stop/start memory due to a crucifix falling on her head and Rosie Greenwood, completing the company as Sister Mary Leo who wants to be the world's first ballerina Nun.
Together this gang of six held the audience to contented ransom as they provided an enchanting evening of mischievous fun.
Every number and sketch added a different dimension of merriment. but my stand out highlights were Sister Mary Amnesia accompanied by a foul-mouthed glove puppet singing ''So You Want To Be Nun', Sister Mary Regina's drug-fueled romp 'Turn Off That Spotlight' and the big gospel finale from Sister Mary Hubert where the whole habit-wearing ensemble had us all clapping and converted one-night-only Catholics with the awesome 'Holier Than Thou'
Sarah Pavlovs also directed and choreographed in addition to playing Sister Robert. That's a spot-on the money theatrical holy trinity from a very talented lady.
Starbuck put on this production as part of their drive to raise money for Endometriosis services in Worcestershire – an under-funded cause.
Hopefully more dates and venues to see Starbuck perform Nunsense will be announced soon and it comes highly recommended from me. Four stars for a show in a village hall – first time I've ever done that!
****
Review by Euan Rose
Euan Rose Reviews