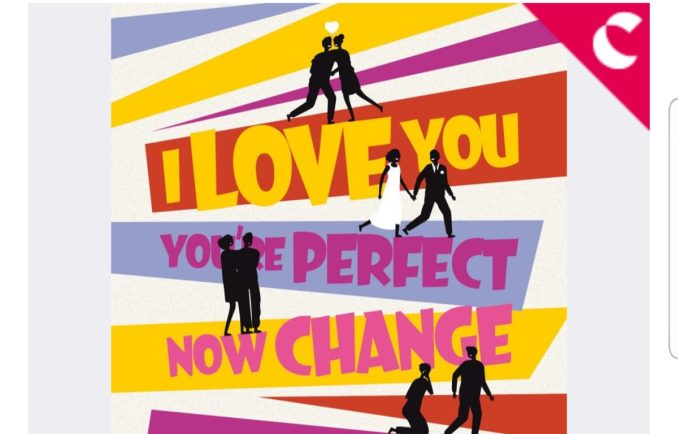 Joe DiPietro – the writer and lyricist for 'I Love You You're Perfect Now Change' – is, I admit, one of my writing heroes.
His pedigree is quite extraordinary with shows from the noir homage to the comic book anti-hero 'The Toxic Avenger' through to last year's smash hit at the REP 'What's New Pussycat'. Indeed I confess to even liking his most slated show 'Diana' when I watched it being streamed during lockdown.
DiPietro is not just a risk taker but he's a full on 'in-your-face' risk taker – and so must the performing companies be.
Admittedly it doesn't always come off, but happily this time it's a damned good outing from the Crescent.
'I Love You You're Perfect Now Change' is written as a four-hander, it's also traditionally a minimalist set, props and costumes. Directors Neve Lawler and Mark Shaun Walsh have turned it into a six-hander and there are furniture, props and cossies galore. I'll bet they had to fight for that in their budget!
Well hurrah for them – I thought it added joyful layers that didn't clutter the words. Yes of course it's all about the text whether sung or spoken, but often Americanese (and this show is very American) can require the attentiveness of Shakespeare, so anything that aids the concentration is to be welcomed.
This cast of six are for the most part in total harmony, whether that's dancing (presume the directors did the choreography too as there isn't a programme credit), singing or acting in this fast moving satire on relationships.
Anya McCutcheon Wells and Luke Plimmer are consistently easy on the ear and eye, none more so than they duet 'A Stud And A Babe' early in Act One.
Prior to that we had the delightful Kimberley Maynard and an energetic Jack Kirby singing something we must have all thought at some time 'We Had It All' – that's when for me, the evening took off.
Hannah Lyons gets my doffed cap of the evening for her poignant self-discovery monologue The Very First Dating Video of Rose Ritz.
As well as directing, Mark Shaun Walsh is the sixth performing member of the company and gives depth and adds modernity to the thoughtful number 'Shouldn't I Be Less In Love With You'.
There is excellent accompaniment from Chris Arnold on piano and Liz Toney on violin with a couple of real stand out moments that provided musical mirth.
Yes it's not without its flaws. One of which is diction getting lost. An easy thing to happen when transferring from rehearsal room to stage – just remember you know the words inside and out – we don't.
That niggle aside, this is yet another great piece of Crescent studio theatre. From smoochy to raunchy, there is a full hamper of delights offered by DiPietro and like his writing the company go at it full on – full in your face.
Wonderful to see a full house – hope the word is getting round what theatrical delights are to be enjoyed on Sheepcote street.
Recommended.
The show is being staged in The Ron Barber Studio at The Crescent Theatre in Birmingham until Saturday, September 24. Click here for times, tickets and more information.
****
Review by Euan Rose
Euan Rose Reviews