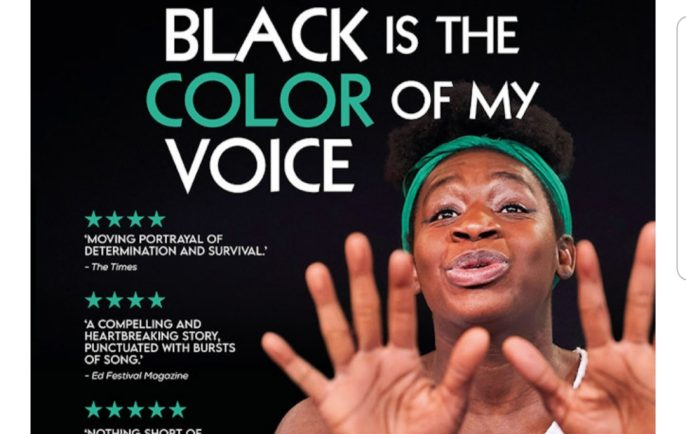 Black Is The Color Of My Voice is a personal take by Apphia Campbell on the life of the wondrous Nina Simone.
Campbell wrote the show whilst living and working as a singer in China in 2013.
It received rave reviews in Shanghai, moved to New York and the following year was a sell out smash hit at the Edinburgh Fringe Festival.
Since 2016 (with a two-year break for the Covid pandemic) it has been touring on and off and has now reached the Grand Wolverhampton.
The sparse set consists of a sofa bed, a chair and a table. Campbell also has a suitcase full of Simone memorabilia she delves into containing trivial mementos through to a platinum disc for her song 'Go To Hell'.
Simone was born in Tyron North Carolina in 1933 and christened Eunice Kathleen Wayman. She changed her name to Nina Simone in 1954 when she decided to stand up to racism, writing 'Mississippi Goddam' which became the anthem of the civil rights movement.
Campbell performs the show as a ritual – she talks to her dead mother and father as she jumps in and out of Simone's life story. It is a journey littered with violence and despair but edged with hope and occasional joy.
There is no doubt that Simone was one tough woman, she had to be in a white male-dominated world and Campbell pulls no punches in showing that.
Campbell is a remarkable performer – her R&B singing blends beautifully into her dialogue so it is a continuation not a separation. She combines the two to produce a quite remarkable 70 minutes of magical theatre.
There is joint direction by Arran Hawkins and Nate Jacobs where they keep Campbell's magnetic performance suitably tight. Equally tight is lighting design from Clancy Flynn. Completing the creatives is sound designer Joseph Degnan who is spot on in taking us to the places Simone describes.
The tour moves up North for the next few legs returning to the Midlands at the Leicester Curve on October 17 and 18 – in my opinion it's well worth making the journey to see it.
*****
Review by Euan Rose
Euan Rose Reviews