OVER the past decade or so there has been a plethora of jukebox musicals, the majority of which have been tiresome in the extreme – where well-known songs averagely-performed are inserted into the of thinnest scripts and put out by producers much more interested in profit than product.
It was with this thought in mind that I joined the star-studded audience that walked the red carpet at the REP last night for the world premiere of 'What's New Pussycat?'
How wrong could I have been?! From the moment I entered the auditorium and spied designer Jon Bausor's stage pre-set, the portents looked good. The Rep's cavernous stage was filled with a wall-to-wall series of arches – all of which were covered in more great paintings than the ceiling of the Sistine Chapel.
It seemed as if a team of modern day Michelangelo's had been at working alongside Banksy to depict iconic scenes from the swinging 60s and merge them with monochrome etchings of Henry Fielding's 18th century's virtuous society.
Suspended as if by sorcery in the midst of this artistry was a sign hung in mid air in three-dimensional psychedelic signwriting. It was asking us the legendary question 'What's new Pussycat?
Musical Director Josh Sood struck up the band like the first note of a rock concert where we have been waiting for the superstar to hit the stage.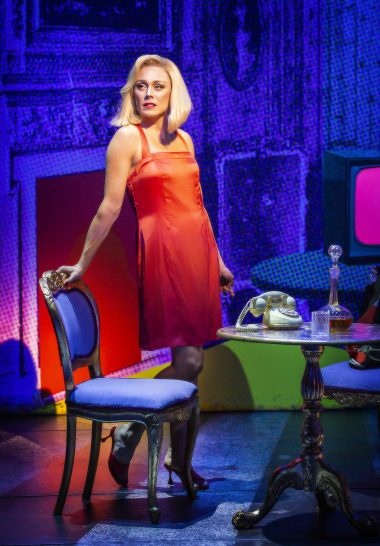 Picture by Pamela Raith Photography. s
But this isn't a Tom Jones concert, nor is it a Tom Jones tribute show – it is the cleverest musical take on a classic novel I have ever seen.
This is the 'Fielding' feel-good 'vanity versus virtue' story – enhanced with fabulous musical arrangements by Mathew Brind of some classic Tom Jones numbers seamlessly knitted into a genius stage book by Joe DiPietro.
There is a dream production team in evidence here; Director Luke Sheppard has done his job with a relentless passion, piling emotion-on-emotion, laugh-on-laugh, bawdiness to bring tears to the eyes and a rollicking good romp from start to finish. When you think this can't get any better, it does!
They don't come any higher on the choreography stakes than Dame Arlene Phillips – without exception everyone dances with complete engagement – the Dame's hard core central troupe perform leaps and turns that defy gravity.
Janet Bird's costumes unite Carnaby Street clobber with countryside tweeds to make the twain meet with a combination chic.
For the chaps that's Edwardian frock coats and skin tight pants in outrageous colours, bare chest and bulging crutch lines – peacocks all.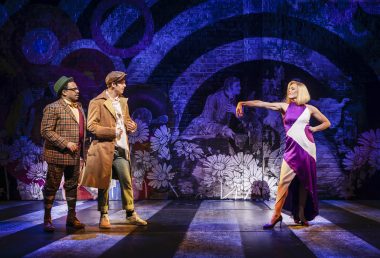 Picture by Pamela Raith Photography. s
For the ladies there are Mary Quant's marvellous mini skirts amidst a never-ending catwalk of brilliant bright latex coats, crushed velvet hot pants and black and white geometric classical evening garb.
Howard Hudson lighting design is a joyful cavalcade of colour and effects – the overhead bars fly in and out like they are alive.
The sound design by Gareth Owen is simply wonderful. Owen has only gone and done what no sound designer before in all my visits to the REP has done – achieved audio perfection. Every musical note is defined and every word spoken and sung crystal clear. Team REP – new standards have been set – no more black spot excuses for future shows, if you please!
Now to the cast who paint this magnificent theatrical canvas and give us a night to remember. Dominic Andersen excels in the title role of Tom Jones. He cleverly conceals his 'sex bombery', leaving it to the ladies to swoon at his rakish innocence, dragging him off to the nearest dark corner for naughtiness. Anderson has a great pair of lungs on him too making much of every solo and especially his impassioned 'She's A Lady'.
Bronte Barbé is delicious as our modern day heroine Mary Western, we discover her caught up in a country code of hand-me-down wealth and piousness from which like a female Dick Whittington she goes London-bound in search  of fun, fortune and the true love of  her life – said Mr. Jones. Barbé charms us from get-go to curtain.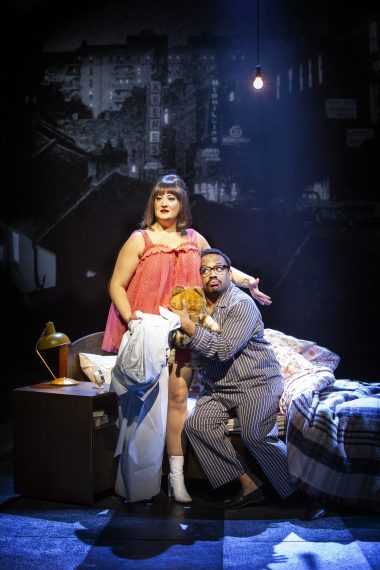 Picture by Pamela Raith Photography. s
A heart-warming performance coupled with awesome vocals. Her 'Without Love' is worth the ticket money on its own.
Melanie Walters as Mary's hoity-toity 'bring-'em up strict – sell 'em off to the highest bidder' mummy is a gem of a performance as is Kelly Price's society despot of the swinging 60s, Lady Bellaston.
Asaley Campbell is delightful as Mr Partridge and his tap-dance is a stand-out special moment in a show that's packed with them.
Special doff of the cap for giving us the most comedic moments to Rebekah Hinds as 'The Girl in the Polka Dress'. mischievous embodiment of the 'bed 'em don't wed 'em ' liberated 60s swinger is joyous.
Harry Kershaw brilliantly puts the oaf in oafish as Tom's loathsome lawyer baddie half brother William Blifil and Julius D'Silva is a larger than life 'Lord Allworthy' and all the better the show is for it say I.
Shout-outs to Lemuel Knights as the outrageous Big Mikey and to the trio from the band who kept popping up in the ensemble scenes adding a sprinkling of fairy-rock-dust – take a bow Chris Ranger on sax, David Sear on trombone and Owain Harries on trumpet.
Although Tom Jones is a Welshman and from the programme notes the idea for this show was conceived across the pond in New York, I am very proud that it was actually brought to life in Birmingham.
Congratulations to Chloe Naldrett, Jonathan Brindley and Joshua Beaumont the producers at the Birmingham Rep and to Flody Suarez, Josh Andrews, Stuart Galbraith and Donna Mundy of Not Unusual Productions – together you have produced a triumph which I believe will run and run in the West End.
'What's New Pussycat?' brings the REP back from lockdown blues with the bang of 1,000 bangers. It is awesome with a capital A, Unmissable with a capital U and wondrous with a capital W. If I could give it ten stars I would gladly do so.
Woowoooa woo
*****
Review by Euan Rose
Euan Rose reviews