WITH all the special magic that 'only a Disney show can do' Beauty and the Beast hit the Hippodrome stage on press night with a dazzling, delightful and spectacular production.
It was joyous to put the horrors that are happening in Ukraine to one side and bathe in glorious fantasy for a couple of hours – never has a show been more welcome or better received!
The magical voice of Angela Lansbury at the end of the overture, sends tingles up your spine as she takes us into 'Once Upon A Time Land'.
Curtain up and a little French town appears before our eyes where we meet the townsfolk including Grace Swaby-Moore (standing in for Courtney Stapleton) as Belle. She looks every inch what we expect of our 'straight off the storybook page' – but with a feisty touch of feminism heroine.
Swaby-Moore has big shoes to fill as Stapleton has received rave reviews on earlier legs of this national tour; but she does so with confidence, we take her into our hearts from the get-go as we set off on her timeless journey.
Tom Senior is Gaston – the arrogant, beefcake pin-up-boy of the town where Belle lives along with her eccentric father Maurice – a suitably endearing, mad professor-like outing from Martin Ball.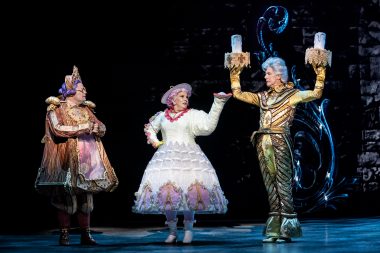 Photo by Johan Persson © Disney
Gaston and his acrobatic sidekick Le Fou played by Louis Stockil make merry as a knock-about Laurel and Hardy duo, but with menacing undertones.
When Maurice seeks refuge in a castle in the wild woods to escape a pack of hungry wolves, it's enter the beast – a stunning and all-engaging performance from Shaq Taylor. Every movement tells a tale as we feel his passion and his pain.
Belle goes on search of her dad and swaps places with him to obtain his release from the dungeons.
The Beast may have got her as his captive but he can't force her to make chums.
The castle humans who have been changed into objects by a spell from an old hag, all deliver clever and funny performances.
That's X-factor winner Sam Bailey as the teapot Mrs Potts – an outstanding Gavin Lee as human candelabra Lumiere, Nigel Richards as Cogsworth the clock, Samantha Bingley as Madame and Emma Caffrey as Babette.
Together they conspire to get Belle and the Beast to fall in love and lift the curse put on them all by the hag before the last petal falls from a rose encased in a glass display box.
It is a testimony to the brilliance of the all-round cast performances and wonderful direction and choreography from Matt West that they rise up to complement the most outstanding technicals I have ever seen on a stage.
Scenery zooms in and out in all directions, animations bring gasps, illusions and effects merge into a kaleidoscopic cacophony of brilliance.
Stanley A. Meyer is the scenic designer responsible for this theatrical miracle, which took an army of skilled mechanics and craftspeople to bring to life.
This constantly moving spectacular is simply breath-taking right up to and including the final illusion as the beast transforms above our heads into a handsome prince.
Wondrous stuff too is lighting from designer Natasha Katz and costumes from Ann Hould-Ward.
There are some fabulous songs and outstanding routines including a stunning Busby Berkley version of 'Be My Guest', which deserves a first act standing ovation in itself.
With lyrics from the master wordsmiths Howard Ashman and Tim Rice, a new book from Linda Woolverton that reflects 21st century gender equality, sumptuous music from composer Alan Menken and musical direction from Jonathan Gill this new version is a five star trip all the way to the Olivier's and the Tony's in my opinion.
On opening night, Thursday, as well as lighting up the stage, the Hippodrome will be illuminating the outside of the theatre in the colours of the Ukrainian flag sending out a message from Beautiful Birmingham to the beast in the Kremlin.
Book a seat if you can get one– shows like this come along once in a lifetime. The Hippodrome is back at the top of its game.
Click here for times, tickets and more information.
*****
Review by Euan RoseEuan Rose Reviews